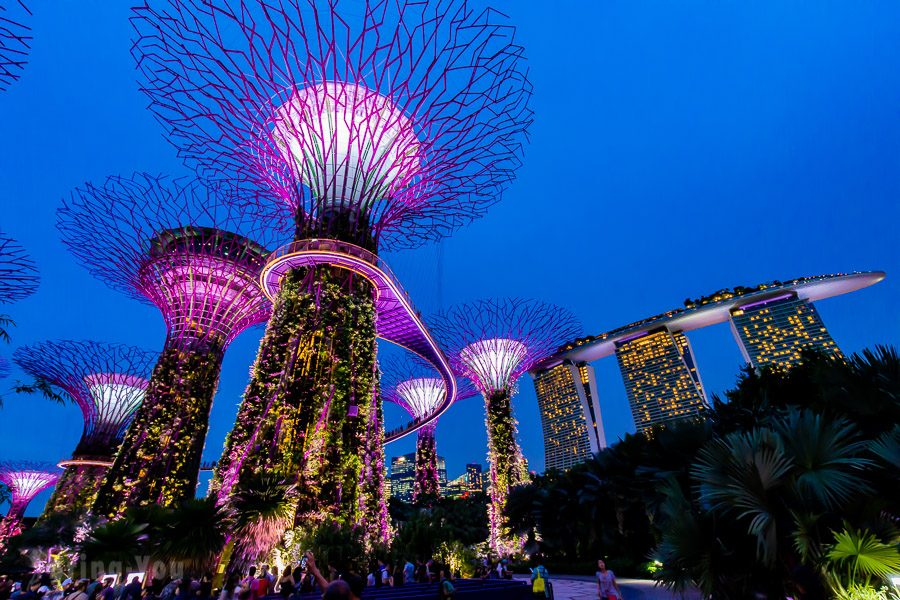 Gardens by the Bay is one of the most marvelous man-made wonders in Singapore. It is famous and insanely crowded. The navigation can be a little confusing for first-timers. Basically, Gardens by the Bay is split into an outdoor area, including Supertree Grove and OCBC Skyway, and the outdoor gardens around the Supertree Grove which is free to enter for everyone; and the indoor greenhouse gardens where you find the Flower Dome, Cloud Forest, and Floral Fantasy.
Without further ado, let's dive right in to learn the best way to get there, how to navigate around Gardens by the Bay, and what it's like to visit each attraction!
How to Get to Garden by the Bay by MRT, Shuttle Service, and Taxi?
by MRT
During the first visits to Garden by the Bay, we took the MRT train since it's the cheapest option. You can choose either the Circle Line or Downtown Line to Bayfront MRT Station.
Head out from Exit B, go straight, take a lift or stairs up and turn left following the signpost. There will be a map showing you how to get there, make sure to take a photo of it in case you're a bad navigator.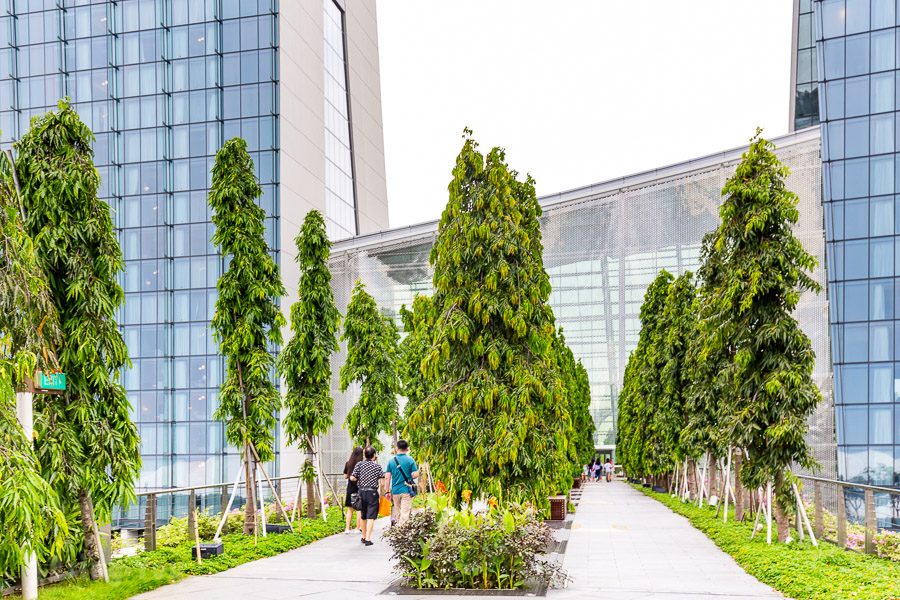 Right next to the map is a walking trail. You walk till the end, turn left, cross the Dragonfly bridge and you'll see Gardens by the Bay right over there. The walk took no more than five minutes if you don't plan to take a stroll.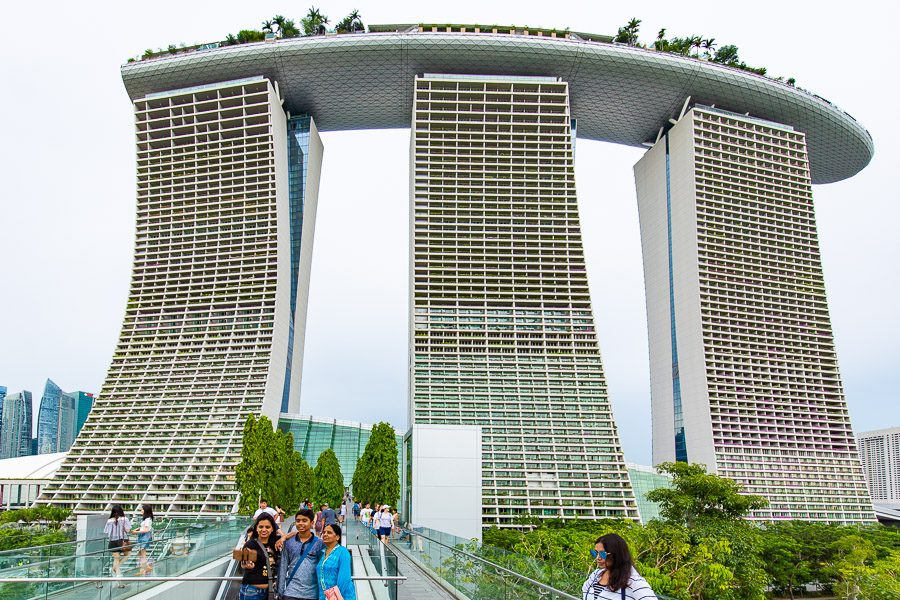 Enjoy hassle-free transportation during your trip to Singapore with a NETS FlashPay Card
By Shuttle Service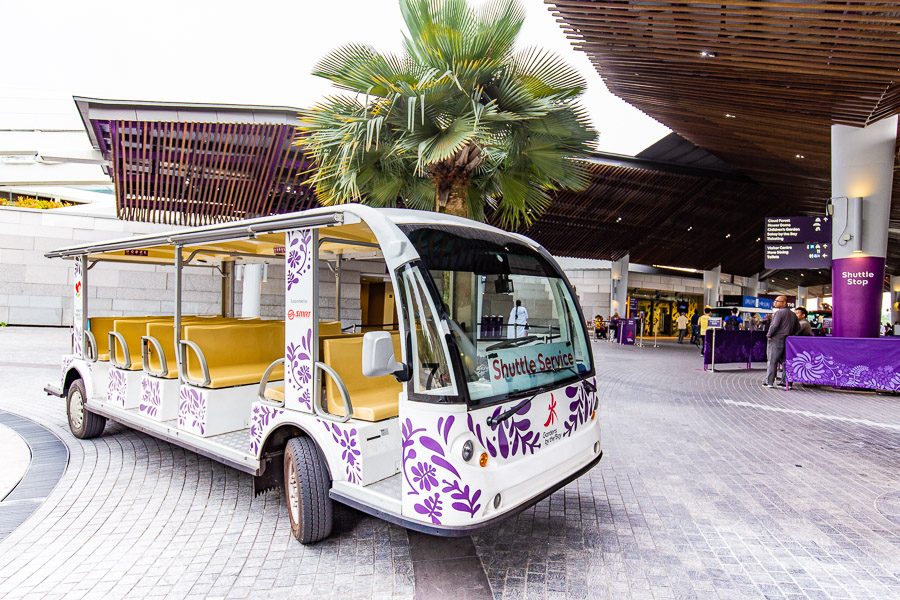 The second option is a shuttle service. We used it quite a few times. The shuttle loop takes you between Bayfront Plaza, Active Garden, and Flower Dome. We've heard that currently the shuttle stand at Bayfront Plaza is moved to the Floral Fantasy entrance but it's only temporary. Make sure you take a closer look at its official website before venturing out to avoid confusion!
The shuttle runs every 10 minutes and it costs you $3 for one 2-way ride. It goes the same way for both adults and children but is free for passengers on wheelchairs. You can find tickets online or purchase directly via its own Gardens by the Bay app.
By Taxi
If you want to hail a taxi, join the queue at the Main Gate entrance, and you should expect a small queue!
4 Best Areas to See at Gardens by the Bay
Indoors and Outdoors, Opening Times, Ticket Redemption, Best Time to Visit
Crucial Tips to Avoid the Crowds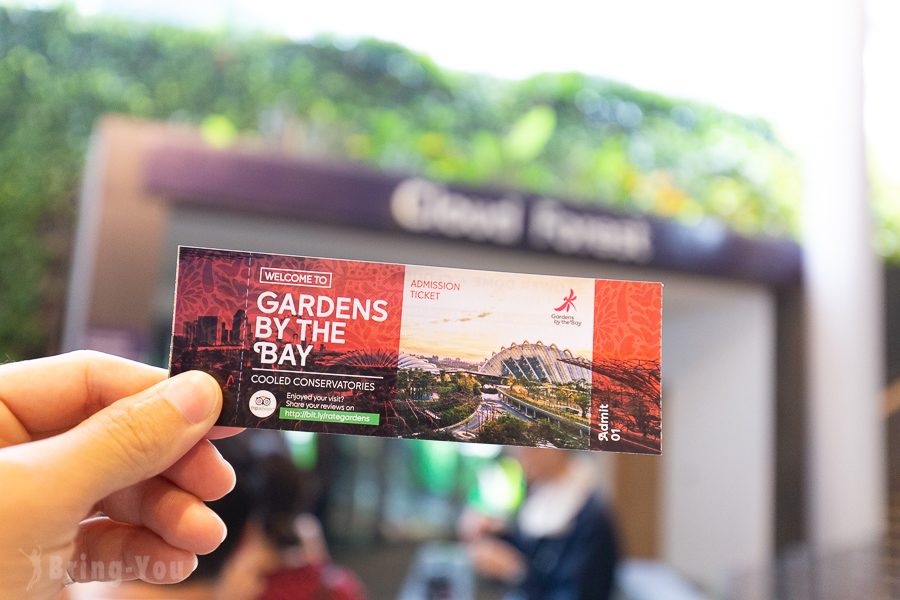 Visit Gardens by the Bay during weekdays or early morning on the weekends.
Buy tickets online or you have to spend an hour queueing in the weekend afternoon.
Save the outdoor space in the morning and get back to the Skywalk and the Rhapsody Show in the evening. Splitting your trip into two parts is a wise move.
Cloud Forest
Opening hours: 9 am – 9 pm (Last Admission: 8.30 pm)
Recommended duration: 1 – 2 hours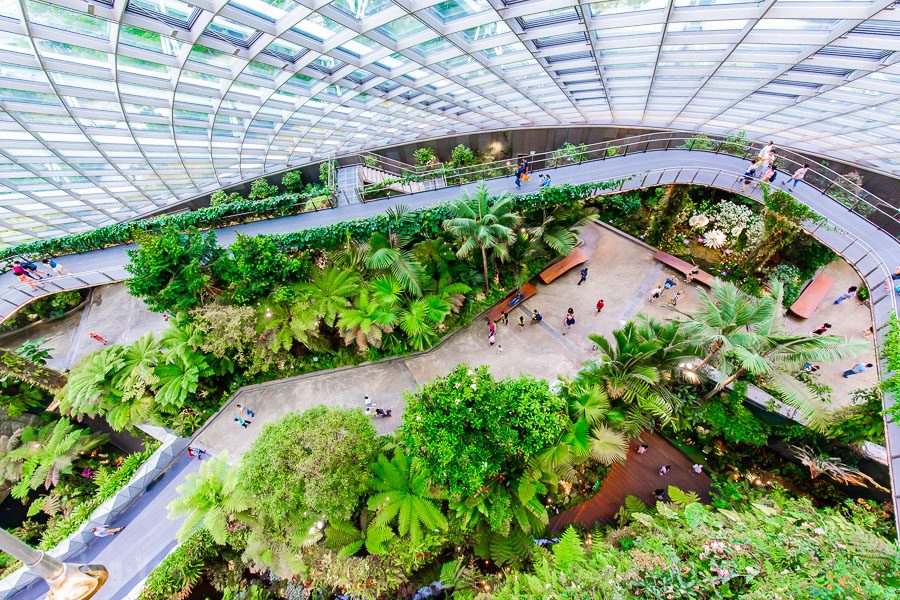 Cloud Forest and Flower Dome are affiliated and Flower Dome is the largest between the two. These two are conservatories. When we got to the Flower Dome area, it was jam-packed with people so we switched to Cloud Forest first and started from there.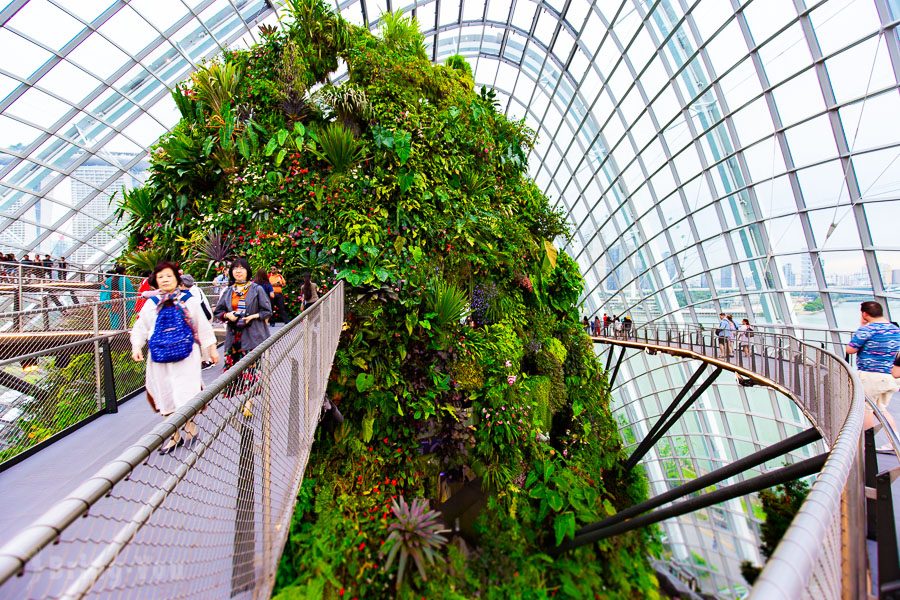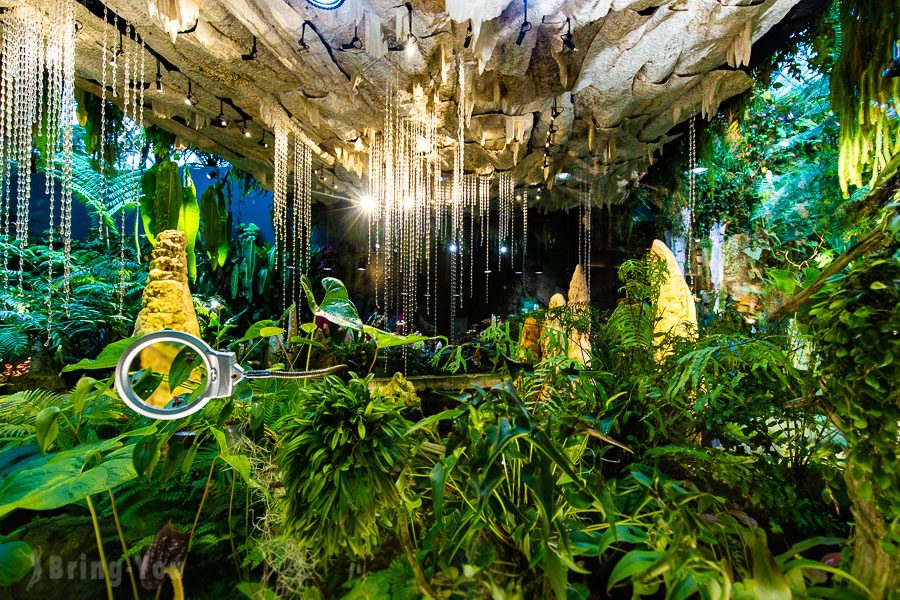 Cloud Forest is an incredible living exhibition of plant life ranging from tropical highlands up to 2000 meters above sea level. You will be completely consumed by this majestic green oasis. Orchids, pitcher plants, ferns – you name it!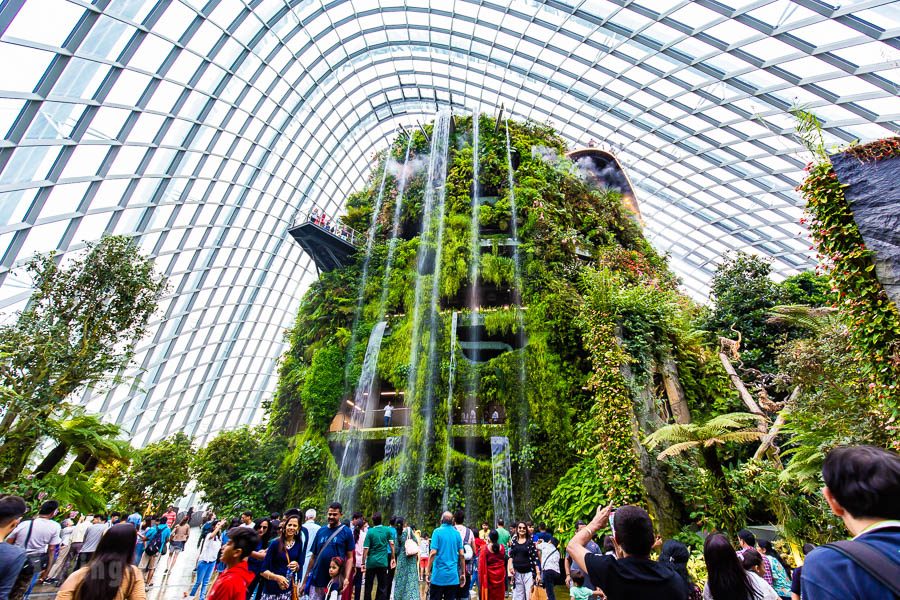 However, the limelight of Cloud Forest actually belongs to its 35-meter-high indoor waterfall. It used to be the world's tallest waterfall back in 2015 but HSBC Rain Vortex soon took the crown. The feeling when you get all sprayed up by the waterfall is just amazing, especially when the heat outside is insane.
Flower Dome
Opening hours: 9 am – 9 pm (Last Admission: 8.30 pm)
Recommended duration: an hour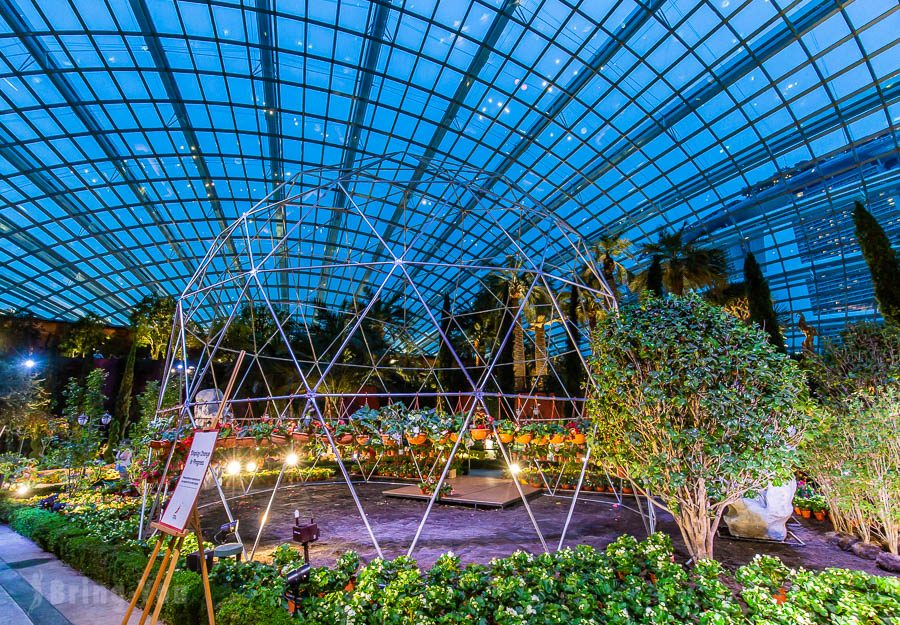 This area is synonymous with Cloud Forest in some ways but it has its own flair that you never have a chance to get bored with. Its column-free grid shell and transparent arch structure allow the dome to be flooded with sunlight. They developed a system that replicates the cool-dry climate of the Mediterranean, which maintains the temperature around 23 and 25 degrees all year round.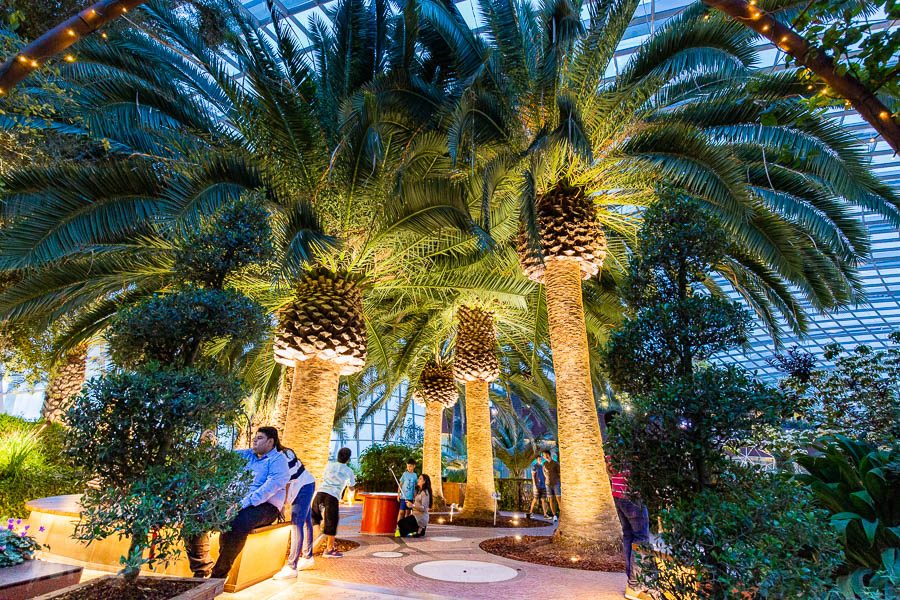 Displayed inside this enormous glasshouse is a medley of plants and flowers, from herbs to fruit-bearing trees, from ivies and succulents. It instantly transports you back into your favorite chapter of Alice in Wonderland.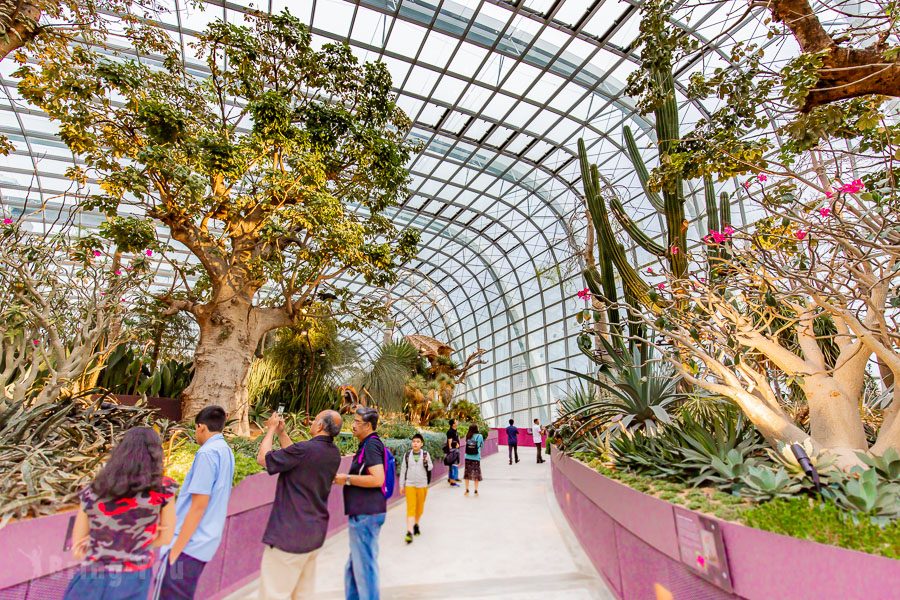 Floral Fantasy
Opening hours: 
Mon – Fri: 10 am – 7 pm (Last Admission: 6.30 pm)
Sat, Sun and Public Holidays: 10 am – 8 pm (Last Admission: 7.30 pm)
Recommended duration: an hour
If Instagram is where your heart is, then Floral Fantasy will be your favorite place to be. Floral Fantasy is drop-dead gorgeous! One of our favorite exhibits was the vertically oscillating balls of flowers. But other than that, most of the plants at Floral Fantasy are rare blooms.
They give it a pastel theme color, which somehow reminds us of an outdoor wedding venue filled with freshness and dreamy buds. They set up a beautiful, awe-inspiring mixture of live plants and preserved flowers in an inspiring arrangement that keeps you snapping your camera at every turn.
You will see benches and statues intentionally placed along the way to inspire visitors with certain kinds of poses. It allowed us to engage with this area as much as possible. 
OCBC Skyway
Opening hours: 9 am – 9 pm (Last Admission: 8.30 pm)
Recommended duration: 15 – 20 minutes
Last Ticket Redemption Time: 7 pm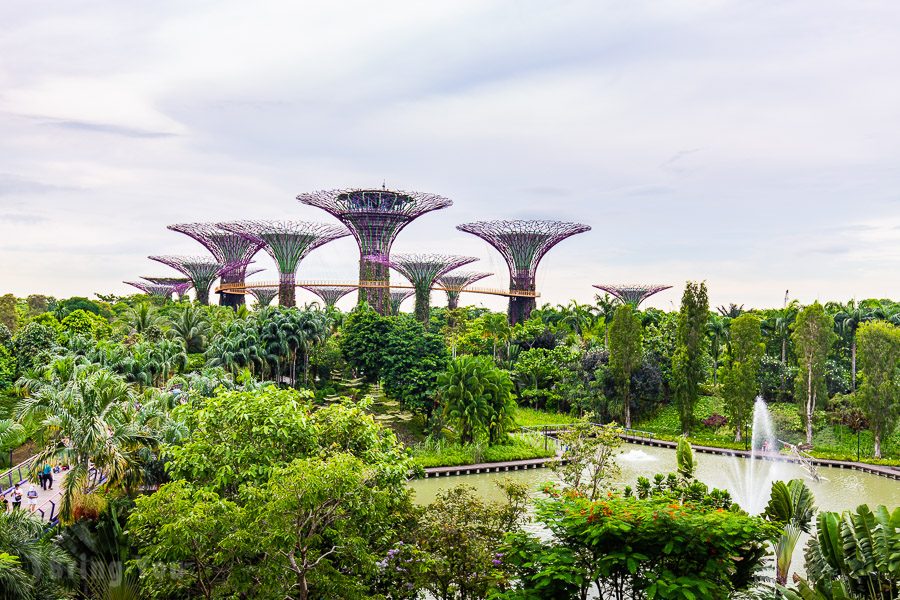 We saved the OCBC Skyway later in the day before stopping by the Supertree Grove to watch the Light Show at the end of the day. The Skyway floats in the air like a strip of cloth hanging in the sky. Walking on the Skyway lets you soak in the unrivaled view of the Singapore Ferris Wheel and Sands Hotel by night too. You need a separate ticket to walk this Skyway, which is different from the indoor area.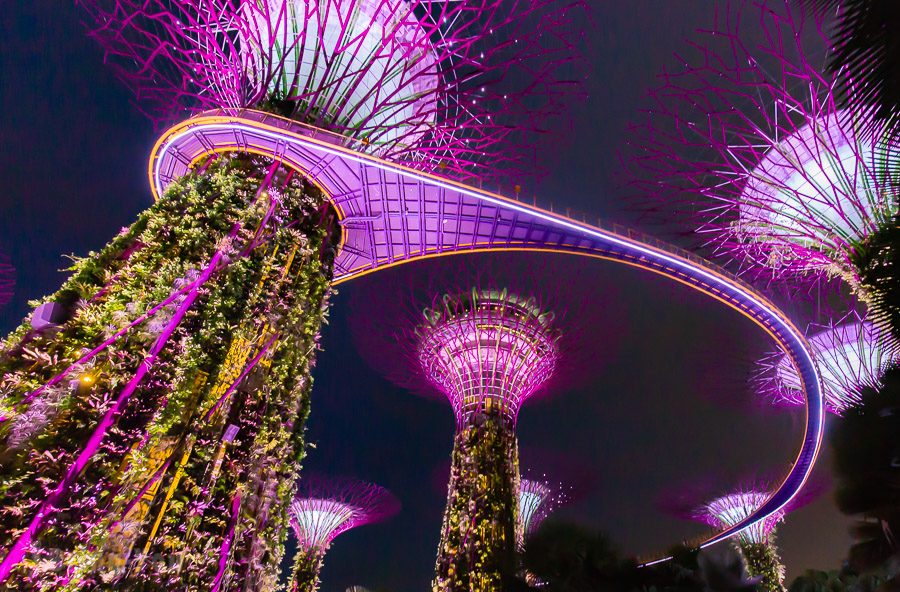 Supertree Grove and Rhapsody Light & Music Show
Opening hours: 
Mon – Fri: 4 pm – 9 pm (Last Admission: 8.30 pm)
Sat, Sun and Public Holidays: 12 pm – 9 pm (Last Admission: 8.30 pm)
Recommended duration: 10 minutes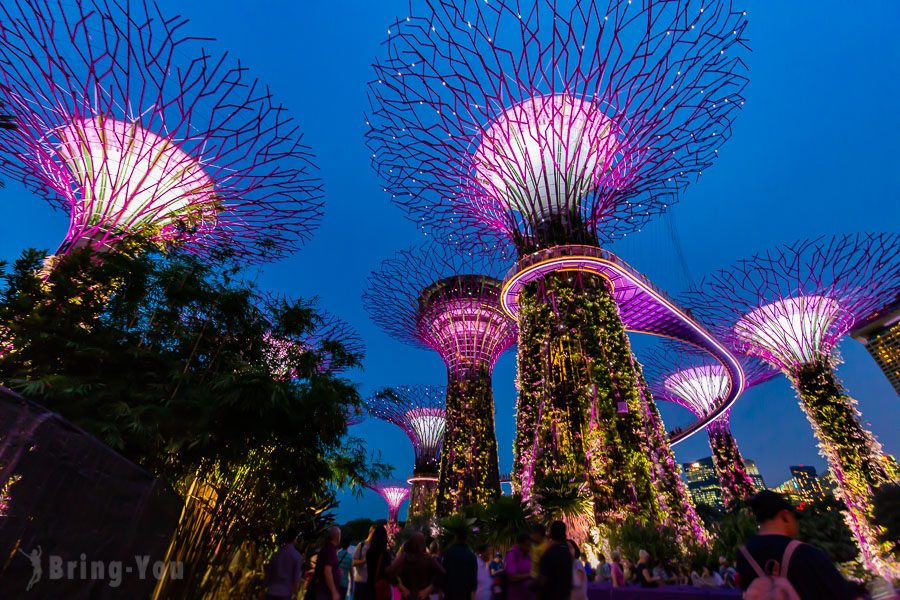 One of our favorite things to do at Gardens by the Bay is watching the light show from Supertree Grove. Gardens by the Bay is such a massive area and that's why it's better if you can break it into half so you can make the most of everything. You can choose to hit it once during the day and once at night to see the Rhapsody light and music show and walk the Supertree Grove.
The supertrees can be seen from the ground and it doesn't cost a ticket, neither does the light show. Personally, we like the vista from OCBC Skyway a lot better since we could see the canopy from up close. To find a better seat to enjoy the Rhapsody lights and music show, we arrived 15 minutes earlier to make sure the crowds were not in the way. Rhapsody light and music shows happen twice a day, 7:45 pm and 8:45 pm.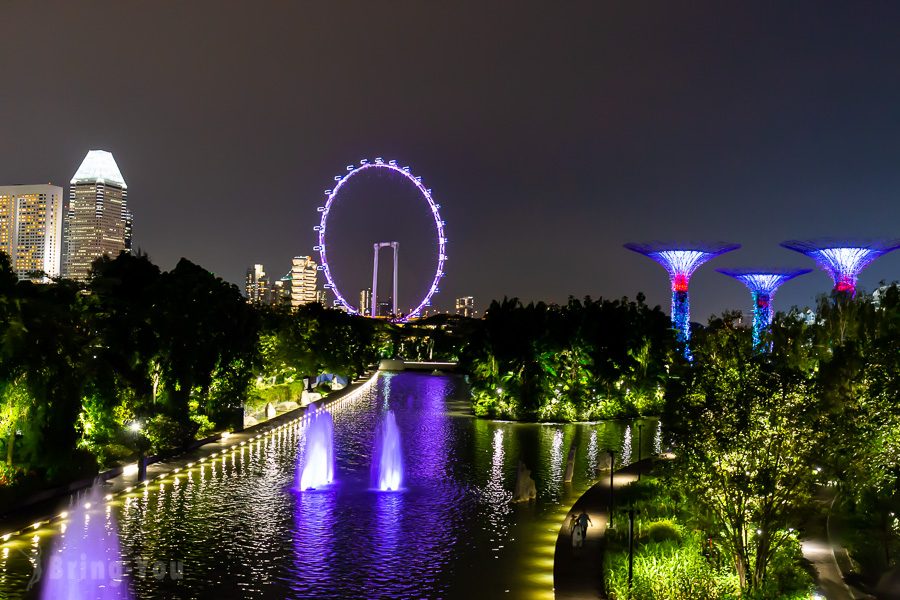 That's a wrap! Gardens by the Bay is so cool and always evolving that you always want to come back. Whenever you drop by Singapore, just pop in the Gardens, spend a few hours with nature and cleanse your mind!
Related Stories