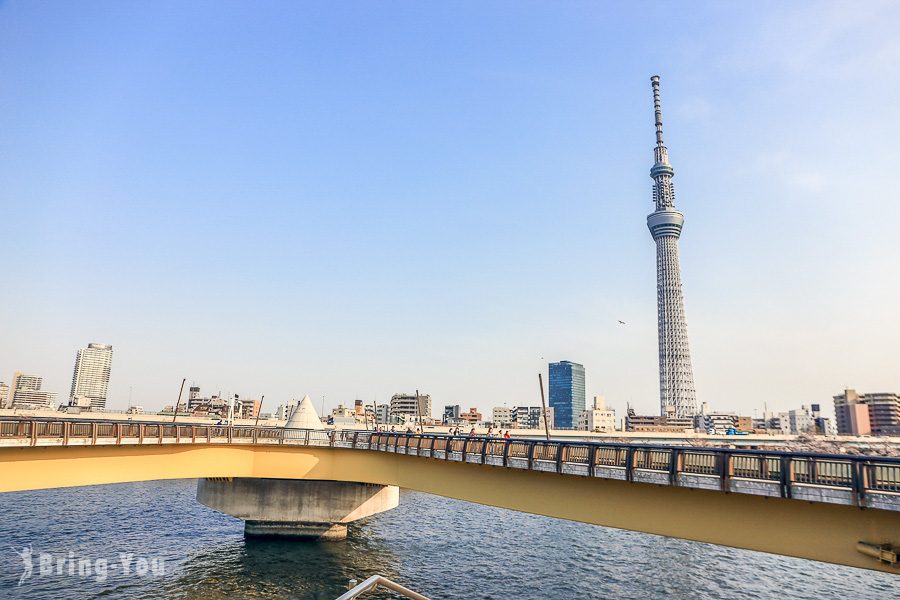 Ever since it was brought to life in 2012, Tokyo Skytree has become one of the most talked-about attractions in Tokyo. Known as the home of Tembo Deck, an incredible observation deck boasting a sweeping-wraparound vista to Mt. Fuji and the Kanto region, Tokyo Skytree also attracts hordes of visitors in and outside of the country to celebrate the fun shopping spree thanks to a range of over 300 stores and gourmet cuisine.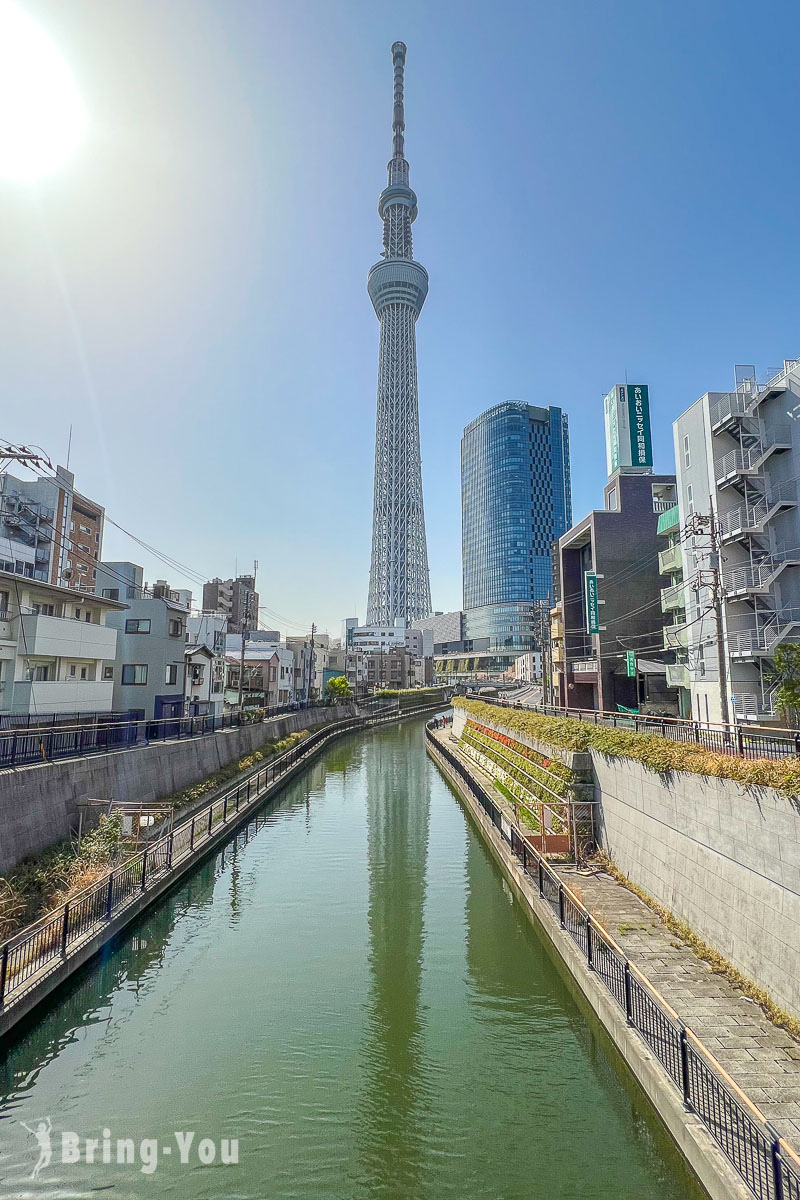 Without further ado, I'll walk you through a comprehensive travel guide to Tokyo Skytree and its surrounding attractions.
In this guide, you will find the best way to get to Tokyo Skytree, finding the observation deck, family-friendly activities, and some of the top-rated attractions just a short walk away from the foot of the skyscraper.
Spoil alert: Sumida River Walk, the Firework Festival, and TOKYO Mizumachi are just a few to be named.
Let's dive right in!
How To Get To Tokyo Skytree?
To get to Tokyo Skytree, you can either take the Toei Subway Asakusa Line, Tokyo Metro Hanzomon Line, Keisei Electric Railway, and Tobu Railway to Oshiage Station. Alternatively, ride the Tobu Skytree Line and get off at Tokyo Skytree Station.
If you're looking for other spots to combine in a day trip to Tokyo Skytree, start with a brief visit to Asakusa in the morning before passing through Sumida Park to enter the skyscraper.
Tokyo Skytree At A Glance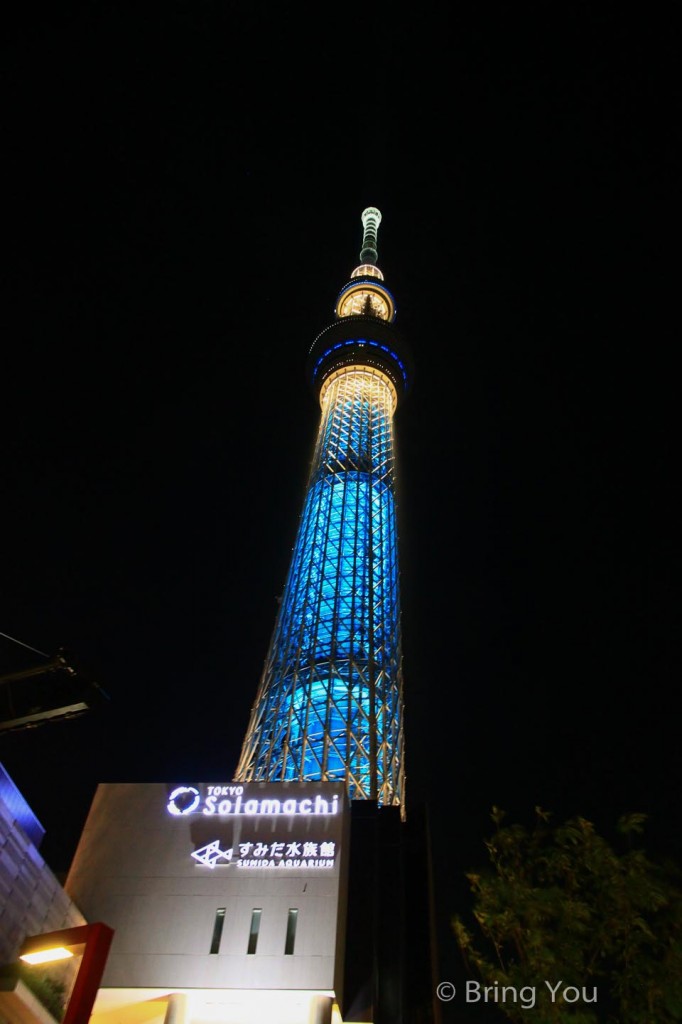 This article will not dig too much into the building itself (though I'll start with a few of my favorite attractions here first before taking you out to the surrounding area). However, I hope this piece of information is still of help to you to understand why this iconic building is so important and keeps people talking about it.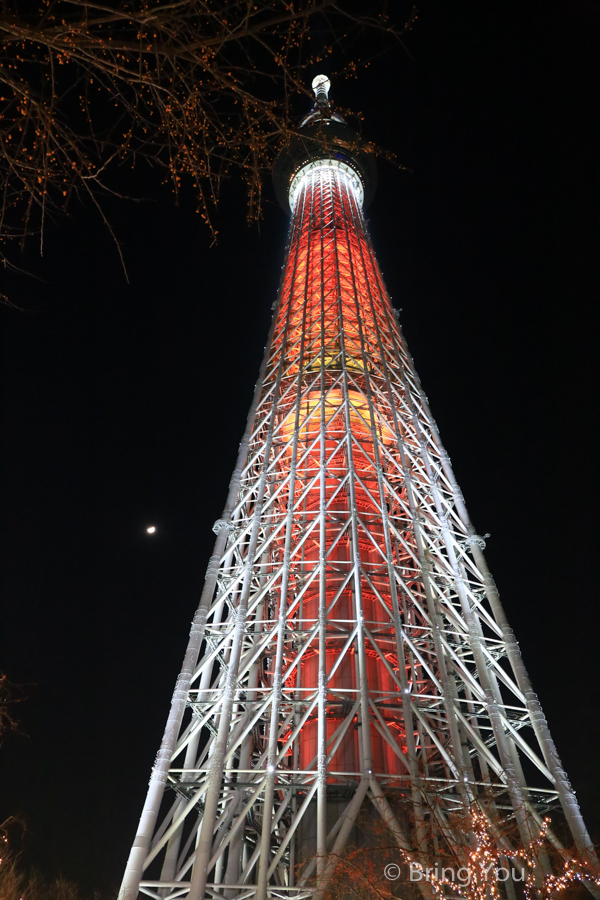 In fact, the original purpose of Tokyo Skytree is a digital broadcaster for television, radio, and emergency signals.
Now you may be wondering: why would the Japanese wait until 2012 to build an actual digital broadcaster?
Well, that's a great question.
Let's get back to 2008 when the Skytree was first put into construction. Before that milestone, relay signals for TV and radio were a pain in the neck due to the emergence of high-rise buildings centering around the capital's core, causing a chaotic system of reliable signals to reach their destinations.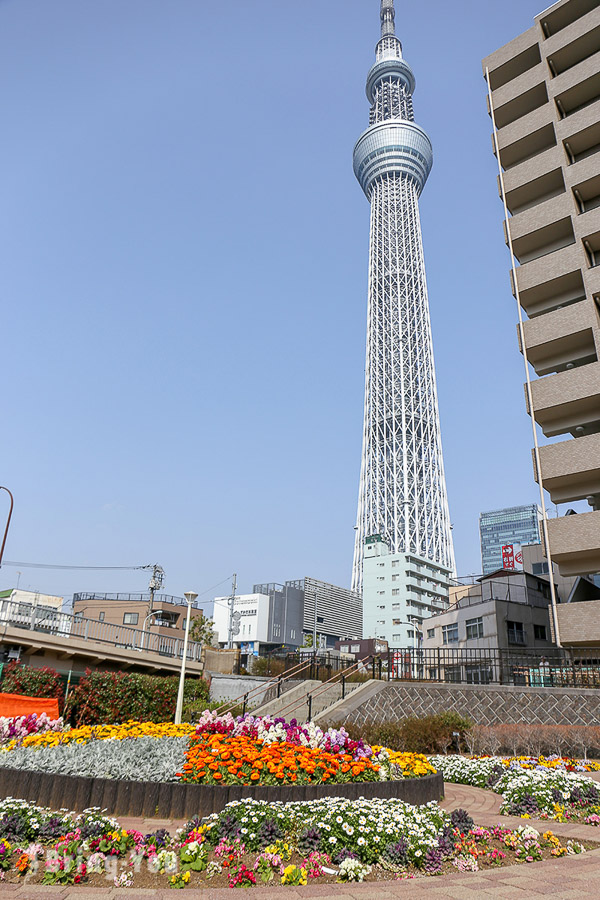 For that reason, Tokyo Skytree came into play to change the game. And today, the building has taken on another purpose in its existence – pleasing locals and travelers alike with an army of shopping spots, good eats, and even an aquarium for families with kids.
From afar, the exterior of the building changes every night, with the blue representing spirit of the Edo, purple for royalty, and orange standing for the nobori flag.
Now let's start with my favorite thing to do at Tokyo Skytree – the Tembo Deck!
Tokyo Skytree Tembo Deck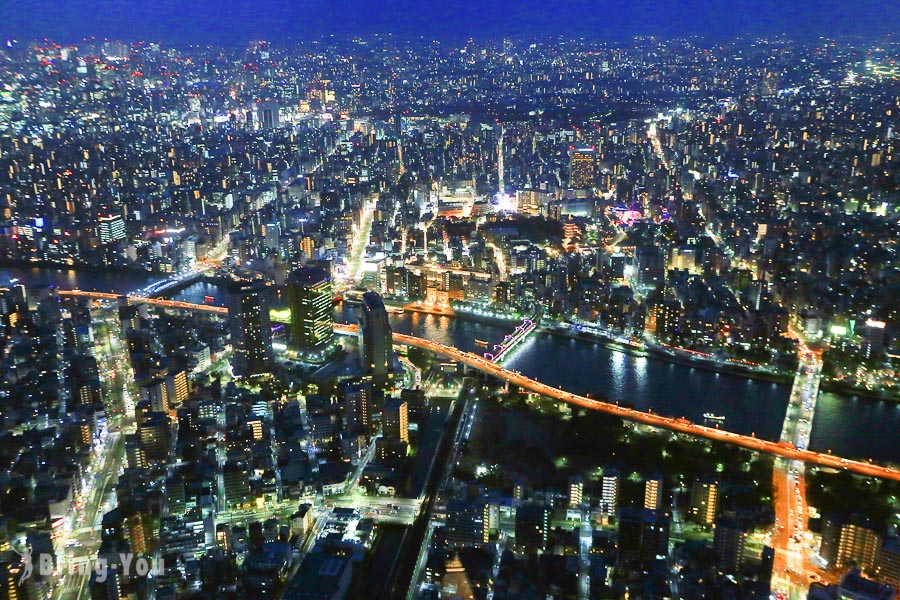 Sitting on the 350th floor, the Tembo Deck offers a sweeping wraparound vista of the Kanto region, including the nearby Sumida Park and Asakusa Temple. When the air is crisp, you're lucky enough to catch a glimpse of the majestic Mount Fuji at a distance.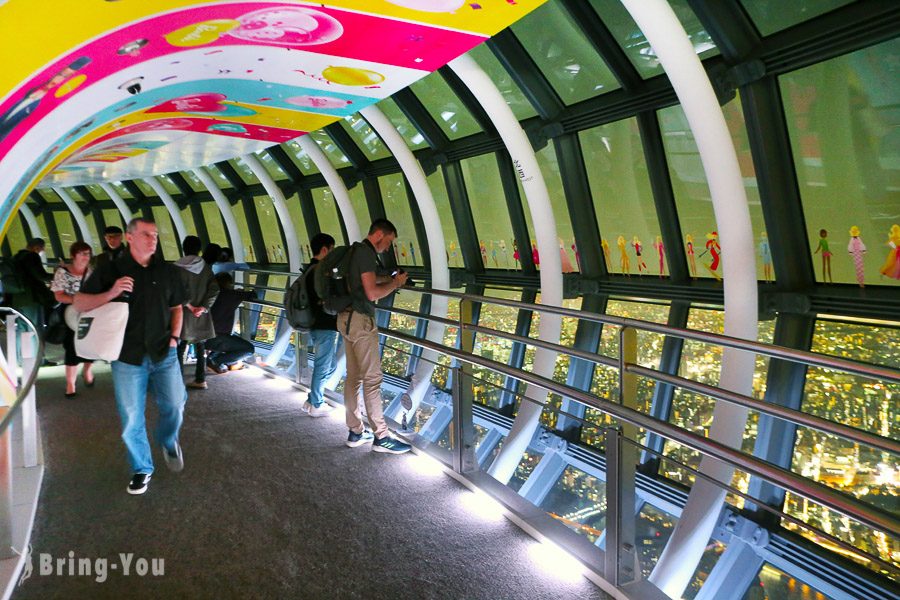 At the end of the trip, meander down one floor below and test your faith by walking on the transparent glass with a view of the city lights underneath.
Sumida Aquarium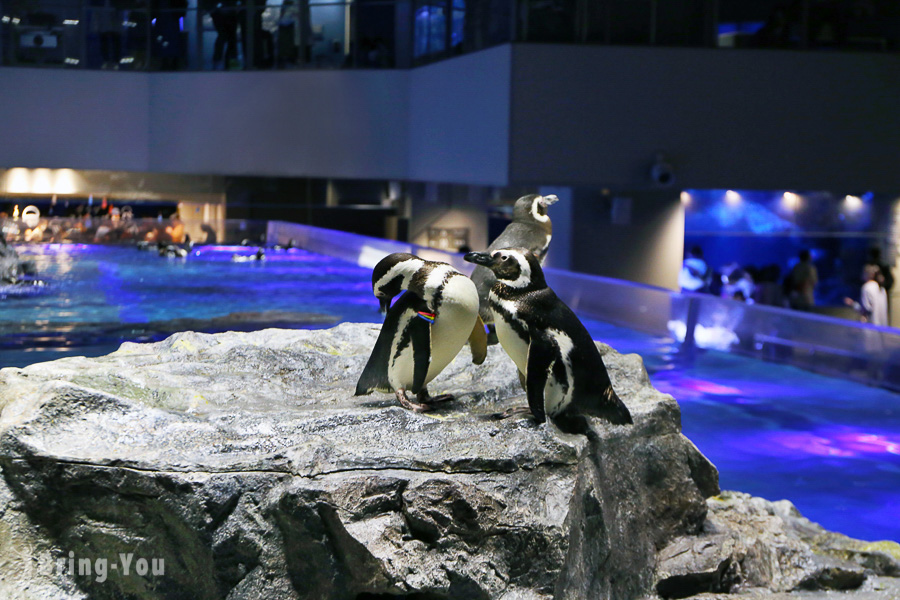 The world is not short on stellar aquariums to spark your imagination, but the Japanese decided to make it even cooler!
Here at Tokyo Skytree, they put the whole aquarium on the fifth floor of the building. You can stop by Sumida Aquarium before hitting the observation deck at night or cap off your visit here to call it a day.
TOKYO Solamachi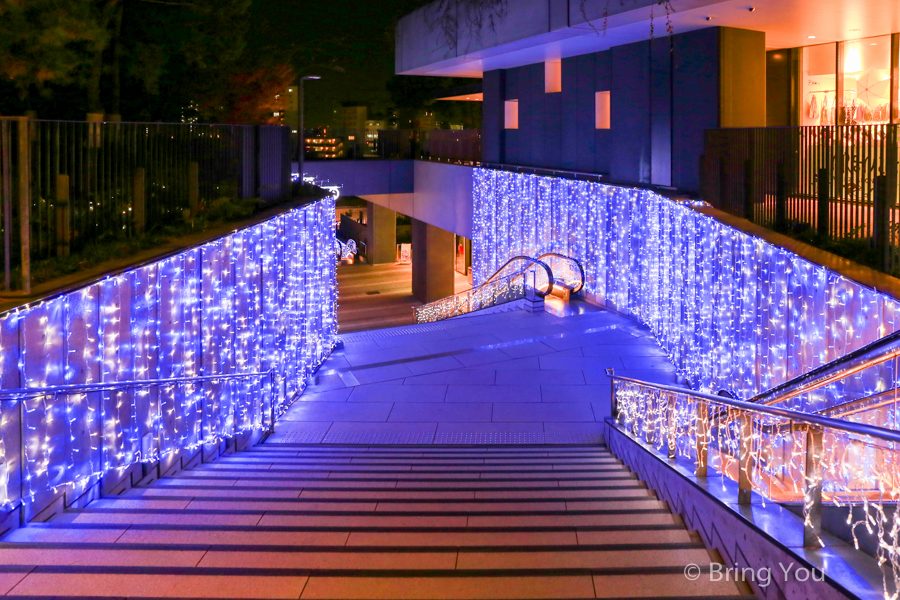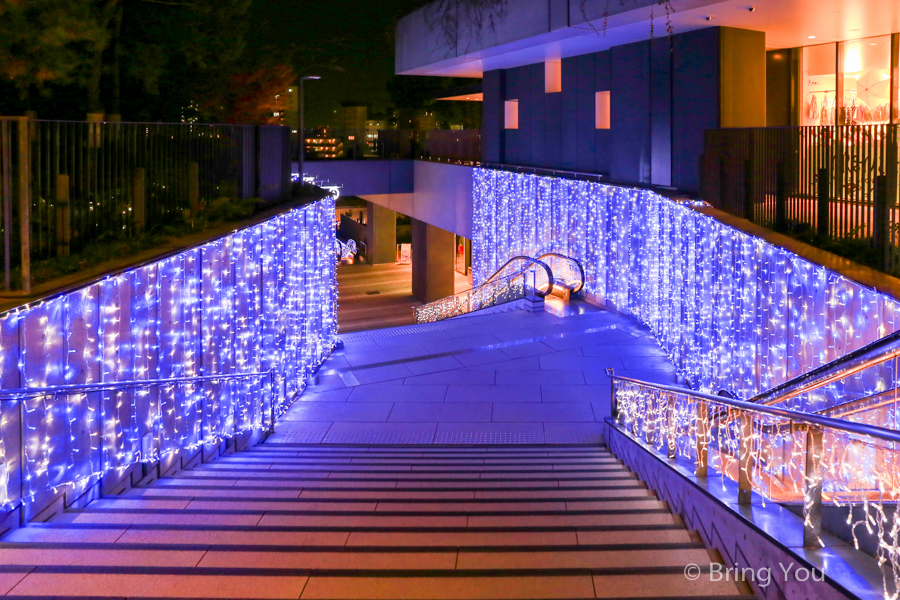 On the hunt for unique keepsakes to bring home? TOKYO Solamachi is the way to go!
Located on the base of Tokyo Skytree, Tokyo Solamachi welcomes you to a wide diversity of more than 300 retailers and restaurants. From high-quality home goods to fashion items, from drug stores to cosmetics and traditional Tokyo crafts, you name it.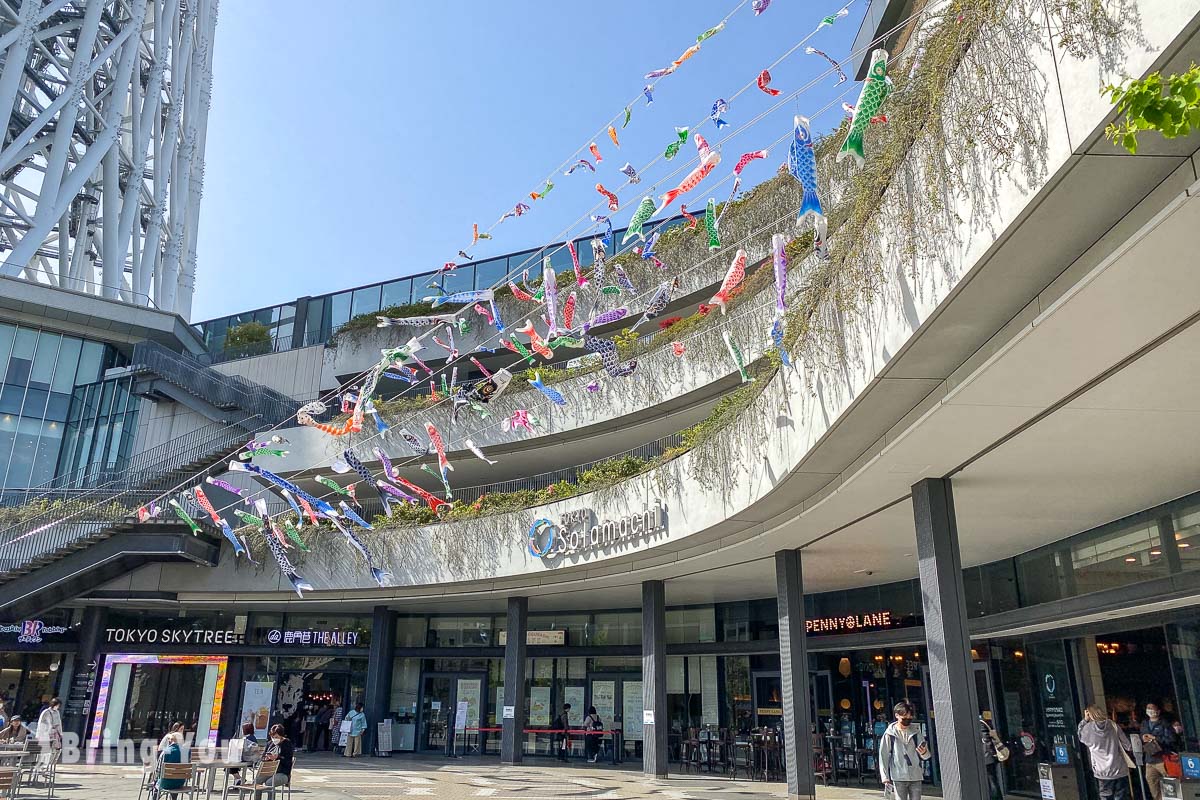 Other than the shopping spree, don't forget to check out a large food market and snag your favorite bite at the food court. TOKYO Solamachi dedicates four spacious floors to house scenic restaurants with a view of Tokyo Skytree and the city.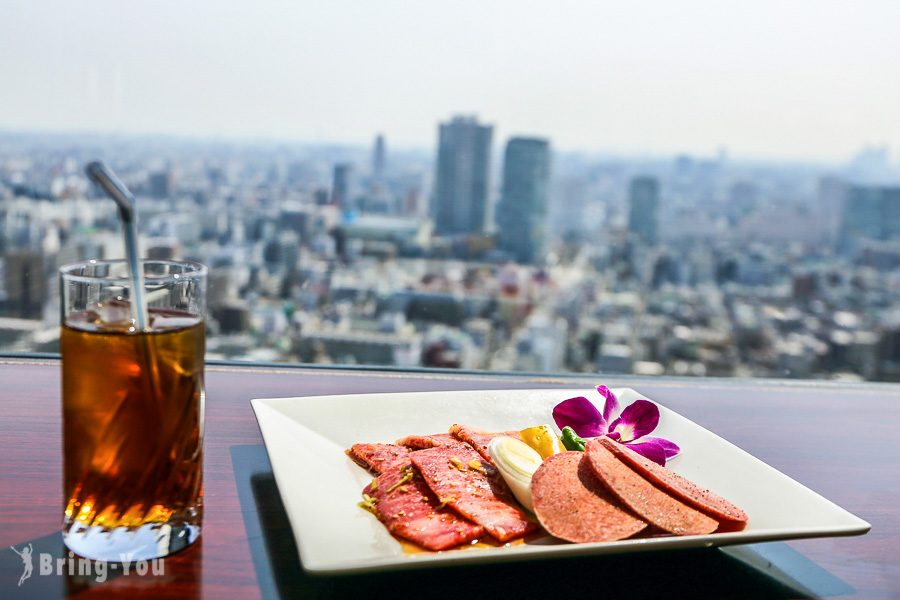 One of the best options I can recommend is Yakiniku Jojoen on the 30th and 31st floors. This restaurant is more on the fancy side but if you're willing to spend a little extra for exquisite Japanese BBQ, then I can't recommend this place enough.
The best time to dine at Jojoen is a little after lunchtime to ensure the space is not overpacked. They have a menu outside of the entrance for you to review. The most popular combo is the Yakiniku Lunch package.
This shopping hub will end our trip to Tokyo Skytree right here. Now let's move on and check out what's happening nearby!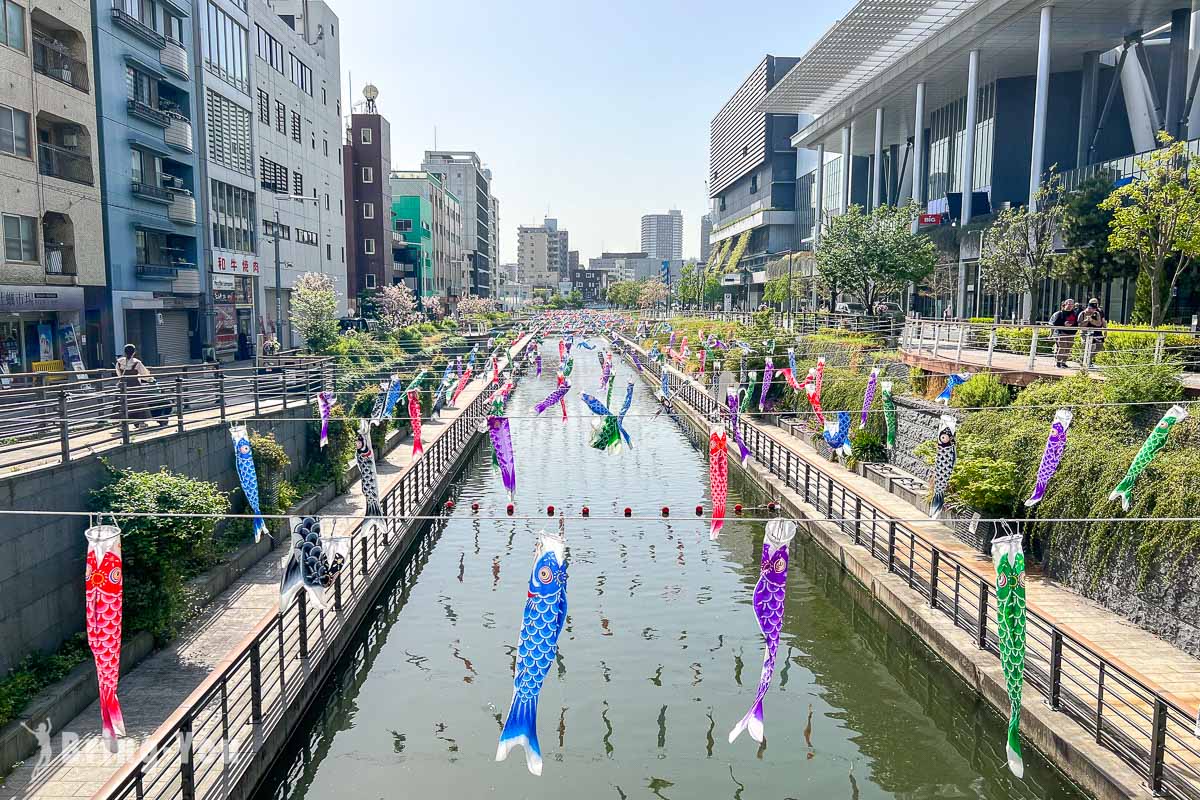 Sumida River Walk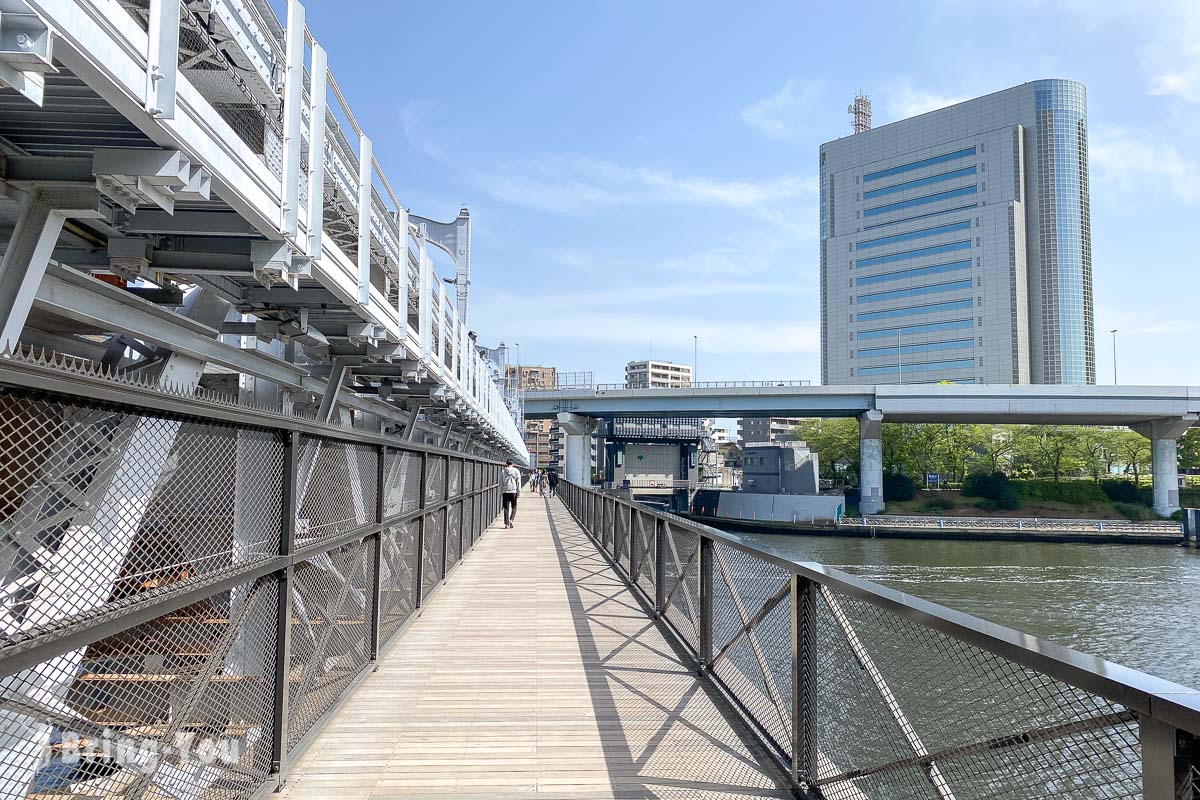 Just ten minutes west of Tokyo Skytree, the peaceful and scenic river walk along the small river becomes one of the biggest hooks in the area. This tranquil pathway gaps the historical neighborhood of Asakusa in the west with the bustling Sumida City in the east with a bridge.
Walk to the west end of the bridge and that's where you find an extensive stretch of green oasis called Sumida Park. Meanwhile, if you walk back to the west end of the bridge, that is where the Asahi Beer Tower building is located.
When spring is around the corner, around 510 cherry trees are in full bloom from mid-march to early April, ringing in a cheerful and dazzling vibe to the area. A leisure stroll along this park promises to give you complete peace of mind no matter what time of the day it is. But if you can make it here before the sun beams down, the romantic setting becomes more clear, with a view of Tokyo Skytree greeting you from afar.
Since the park stretches along the river, you will find cruise boats traversing the water once in a while. Those tourist boats are Tokyo Water Buses that depart from the ferry terminal located near the park's entrance. From there, you can hop aboard for a ride to Hamarikyu Gardens or Odaiba.
Sumida River has been a concentration of festivals and events. On the last Saturday of July each year, the Sumida River becomes a magnetic field to celebrate the Sumidagawa Fireworks Festival. This is one of the most expected events every summer in the capital city when only the best pyrotechnical teams battle it out to beckon your attention with quirky and incredible firework performances. When another summer comes, the teams are long to showcase their latest skills and creations.
Other than the great performances, cheers, and laughter, the Sumidagawa Fireworks Festival also converts this area into a flea market of street food. From grilled meat and corn to chocolate banana crepes and okonomiyaki, you name it.
Read More: Sumida River Walk: A Scenic Pedestrian Bridge Connecting Asakusa and Tokyo Sky Tree
Asahi Group Head Office Building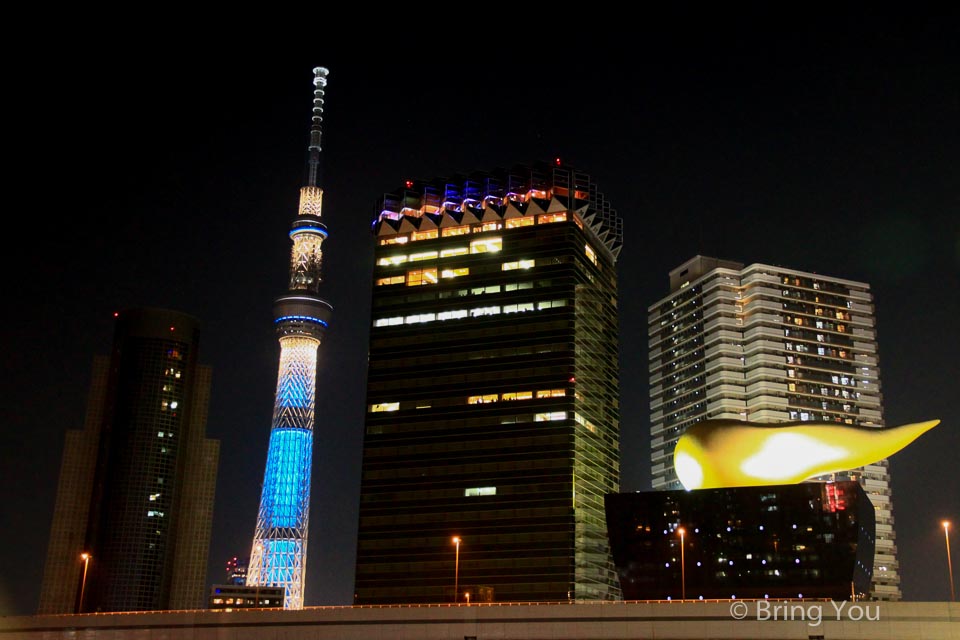 Once your visit to Sumida Park comes to an end, walk back to the iconic Asahi Group Head Office Building to snag away some shots of the giant beer glass.
The big building is designed to represent a glass of beer topped with golden foam. If you wanna visit inside, check out the top floor where they have a cafe and restaurant with a view to the Sumida River. Grabbing a drink here is a perfect alternative for those who can't make it to the Tembo Deck of Tokyo Skytree or simply wanna save some bucks.
TOKYO Mizumachi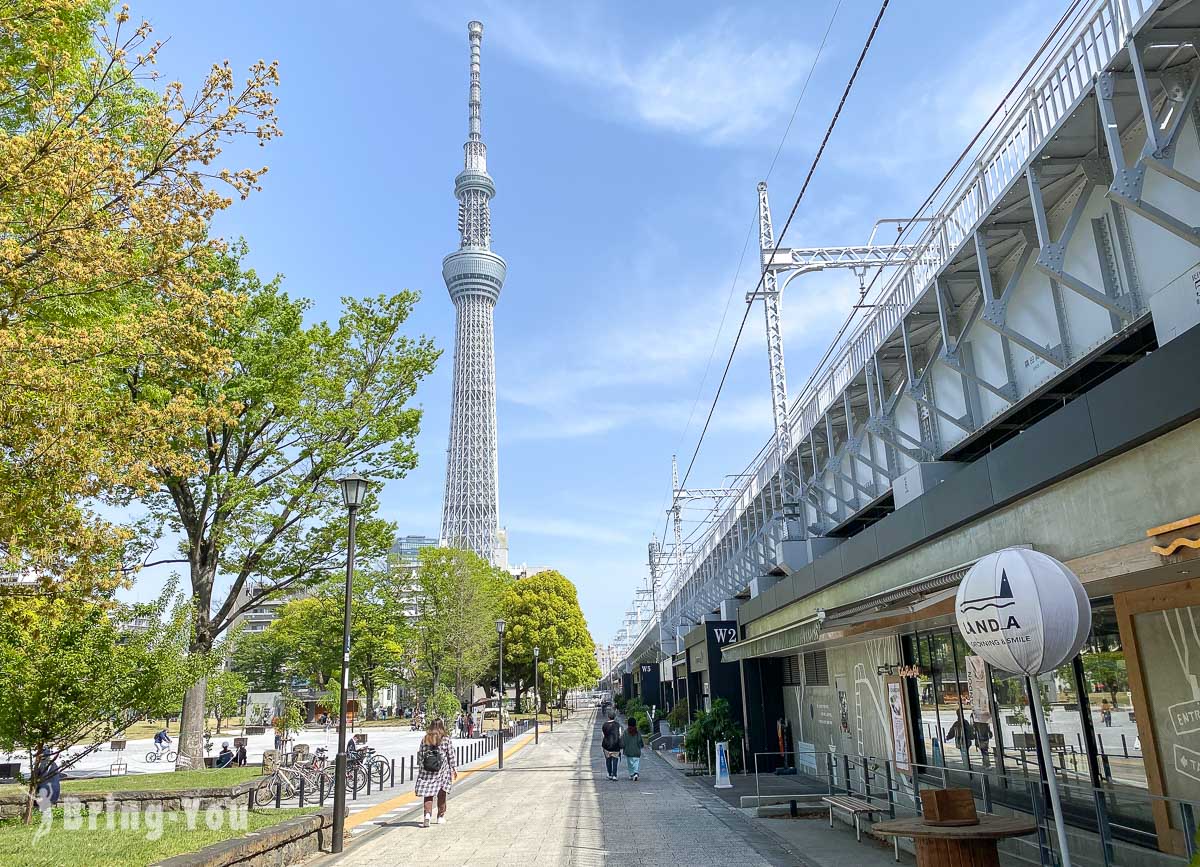 From Asahi Group Head Office, walk north for six minutes for a stop at TOKYO Mizumachi. If you feel like TOKYO Solamachi is not enough to satisfy your inner shopaholic, then Mizumachi is the next place to tick off your bucket list.
Mizumachi is a new shopping station nestled by a tributary of the Sumida River. Here, chic cafes and cute desserts make a statement, combined with sky-high views and trendy crafts shops.
Read More: Asakusa Riverfront Delights: Explore Tokyo Mizumachi for Shopping and Dining Experiences Under the Viaduct
Oshinari Park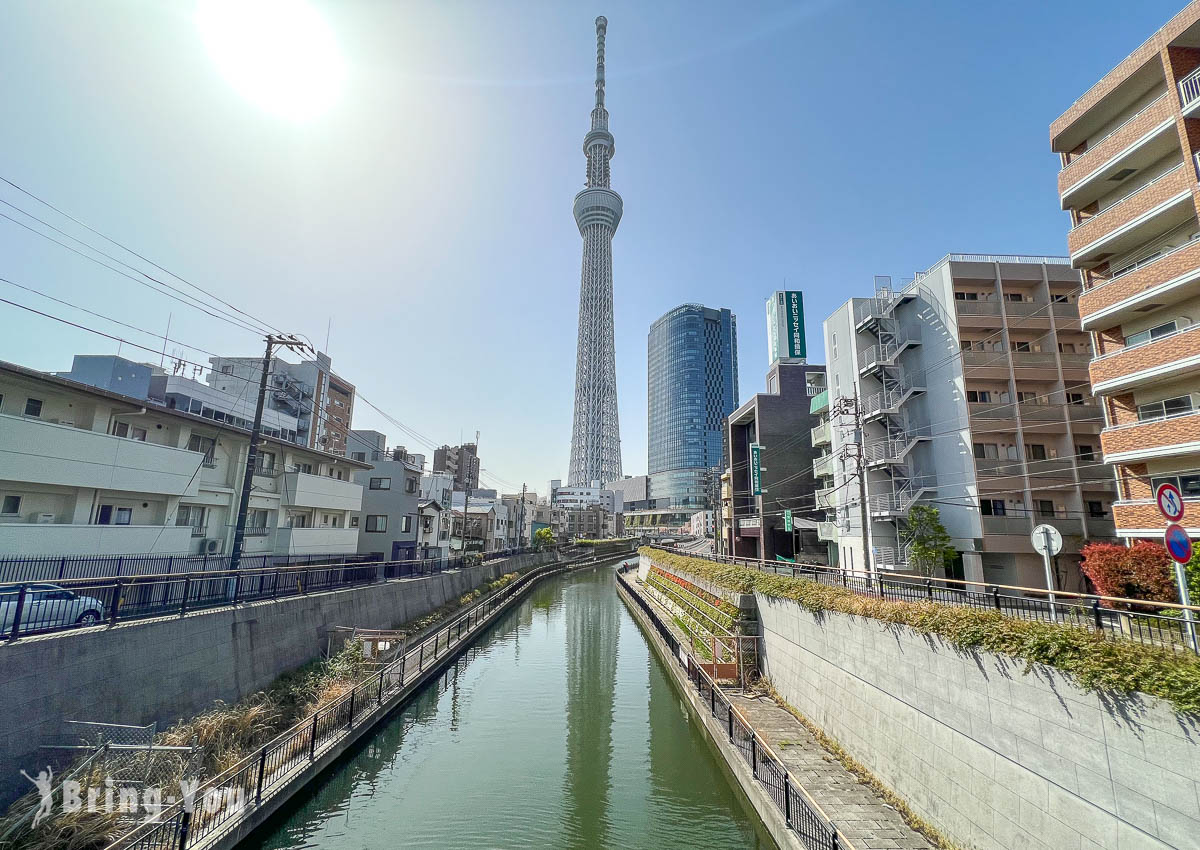 To cap off your visit to Tokyo Skytree and the surrounding area, stop by Oshinari Park to rest your legs. The park is located within a short 15-minute walk east of TOKYO Mizumachi, just across the Oshinari Bridge.
The park has been talked about as one of the best secret spots to capture the color-changing scene of Tokyo Skytree at night. It's also a peaceful hideout to chill by the promenade and waterfront terrace. When the sun beams down, the promenade puts on a new outfit with whimsical illumination.
Key Takeaways:
If you plan to cover Asakusa on a day trip, make sure to pop into Tokyo Skytree and explore its surrounding area. I know we may have too much to squeeze in for a day on this bucket list but that's a great excuse to find a stellar hotel to rest your back even for a night.
In case you're still unsure how to plan the best itinerary, start with a trip to Senso-ji Temple and Ueno first thing in the morning and visit Tokyo Skytree later in the day.
Everything You Need to Know about Tokyo
Explore more of our adventures around Tokyo:
Simplify Your Tokyo Trip